---
Imagine you've just had an awful day at work! You've spent the day distracted and annoyed at your boss. But now your workday is over and you've told your friends that you'd join them on a
Kindness Quest
.  "What's that?" you ask. "It'll be fun" they say. You trust your friends so you decide to go. You show up where the Quest is taking place, thrilled to see your friends, and you meet a friendly- but not annoyingly so- Quest guide. Your guide provides an info session and explains how kindness can be a powerful force in your life.  Hmm, you thought you already knew all about kindness – that it decreases anxiety and depression – but didn't realize that it has some pretty powerful medical benefits (it improves heart health, increases life span, decreases pain).  Your guide talks about things that makes sense but that you haven't really thought about, like how kindness fosters connection and combats loneliness and has benefits at work like increased productivity, customer satisfaction, employee engagement and improvement of the bottom line.
Your guide shows you the Quest bag! It holds all the tools you'll need to complete the Quest.  Inside it looks like there is a small clipboard, pen, stickers, sidewalk chalk, temporary tattoos, fresh flowers, a couple of t-shirts, and other paper supplies for what you're not sure.   Yup, your guide has read your mind and is now explaining what the supplies are for and how to use them. Now the guide gives some general instructions and explains that there are both required and optional activities to complete.  You are instructed to put on your colored team bandannas, and the guide asks if you are ready to begin.
Then you're off!!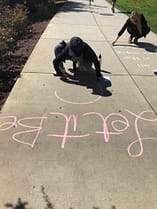 Your team starts by putting positive messages on the sidewalk.  Initially people walk by quickly and even give you funny looks. You try not to care because this is kind of fun, but you still feel slightly self conscious.  You invite people to join you, and slowly one by one they do. Then you start attracting a small crowd. A man in a suit stops by as you draw a picture of a duck** and tells you that he really needed to see that today, he loves ducks** and it has been a really stressful day for him. He's happy to be reminded that there are other fellow duck lovers** out there in the world.  He thanks you. Your team decides to leave the chalk on the sidewalk with a sign that says "please join our growing kindness collage" and move on to the next activity.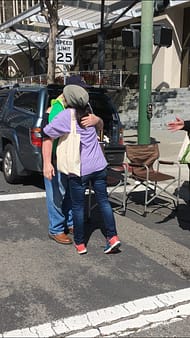 A couple of the extroverts on the team decide to put on the purple "Free Hugs" t-shirts and see if they can get strangers to take them up on their offer.  You encounter initial hesitancy in strangers, with averted eyes – but eventually the team's enthusiasm is too much for people to resist, and people start giving them hugs.  You are so grateful that you weren't forced to wear a "Free Hugs" t-shirt, because this gives you the chance to watch people's expressions as they approach your teammates and after the hug.  Even those who chose not to hug are smiling and seem to be curious about the activity anyway.
That's cool!
Next your instructions direct you to start looking for signs of kindness in others – "see the kind".  You notice a man picking up trash that isn't his, you see a woman letting another woman go in front of her in line, you see a barista giving extraordinarily cheerful service, you see a child comforting another child who has fallen down.  In fact, once you truly look for it, it isn't HARD at all to catch people showing kindness. As an acknowledgement, you give them a blue Kindagious card. Oh! That's what those are for. . .
Then you switch back into "being kind "mode.  There are notes for cars, flowers for strangers, notes on mirrors, paper fortune cookies to hand out, etc. (most are introvert friendly – thank goodness). You notice that people are really start to respond to your team with smiles and laughs and genuine thank you's, even those who were a little suspicious when they first saw you coming. You end the Quest by taking the time to tell each team member something truly special that you appreciate about them.  No boring cliche answers like "you're nice". People are encouraged to get as specific as possible. The things that people say to each other really touch you. Your designated timekeeper frantically lets you know that you have to get back to the starting place to report back in.  What?? How did an hour and a half go by so fast?
When you get back to the starting point you see the other team(s) and the first thing you notice is that people are all smiling, talking over each other and laughing.  It takes the Quest guide a minute to get everyone to listen. The guide asks for the number one takeaway or favorite activity of each team. You laugh because none of the teams can limit it to just one.  Then the guide asks for the top three. Everyone wants to give their opinion. The enthusiasm can't be contained, so the guide gives up trying. The guide asks everyone to think about their state of mind when they arrived at the Quest just a short while ago.  How does it compare to how you feel right now? You are shocked to realize that your headache is gone, and you feel genuinely excited and energized. You noticed that one of your teammates was actually skipping down the sidewalk on the way back to the starting point.  Skipping! The guide gives all of the teams information on how to keep the spirit of the Quest alive in your daily life, at home, work, school, or in any sort of community that you are part of.  You are excited to see the suggestions and immediately think about how you can recreate this "high" on a regular basis, especially after a rough day at work! **  No ducks were harmed in the Quest referred to here.  There are other details that may not pertain to all Quests.  This story is not meant to cover every aspect of any single Quest.  We believe it is kind to leave some of the details a delightful mystery.  After all, this is all about having fun! Contact us to learn more!